The owners of Royal India have a long history of being sued in Washington State, but not all of the cases against them are about stealing wages from workers and citations by Labor and Industries. Some cases are about the horrendously unsanitary conditions in their kitchen and restaurant.
The landlord of the strip mall in which Royal India resides sued them to retake the property after Royal India harbored a massive rat infestation (King County court case 19-2-08019-1 SEA).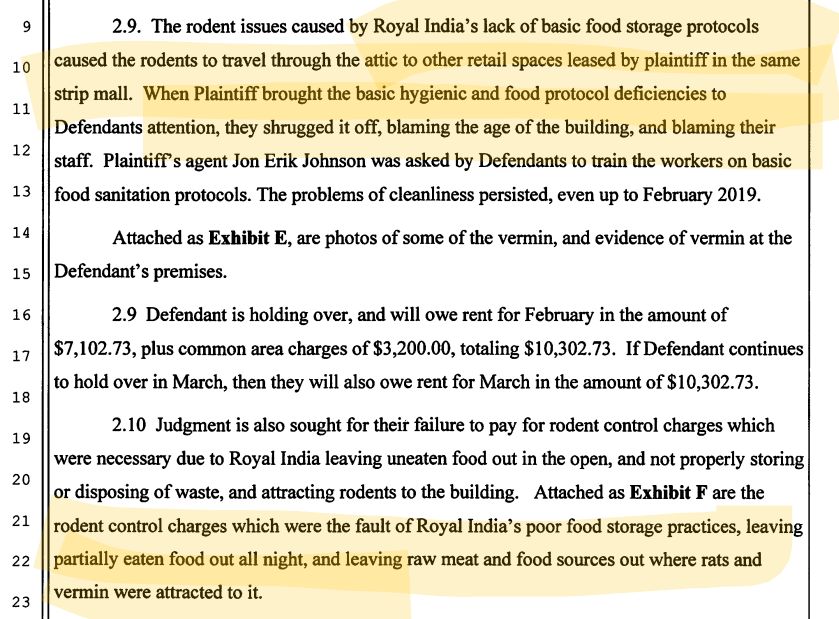 Photos from the lawsuit show dead rats, rat feces throughout the restaurant, raw meat left out, and food left out on the floor…
Tens of thousands of dollars in repair were needed to address the rats (individual checks listed on the case total $23,075 in rat damage!) including rats from Royal India invading other tenants at the strip mall…
In addition to causing thousands in damage with their unsanitary food handling and kitchen maintenance practices, court documents mention thousands of dollars of unpaid rent by Royal India to their landlord. Aeisha and Mohammad Bhatti's refusal to pay what they owe seems to be a pattern of behavior for them–their landlord, along with their workers and other business associates, have a terrible time getting these thieving bosses to pay what they owe. 
Workers we have spoken with confirmed the disgusting conditions in the Royal India restaurants, mentioning additional food safety problems such as one of the bosses taking food off a customer's half-eaten plate with his fingers and adding it to another customer's about-to-be-served meal. Former workers' primary concern is getting their hard-earned wages paid. Unsanitary conditions, on top of abusive labor practices, provide customers with all the more reason to boycott Royal India.
Are you a current or former worker at Royal India? Still not paid for your work?  Get in touch!