Help out with the fight by joining SeaSol!
The Seattle Solidarity Network (SeaSol) recently learned of many shocking allegations of wage theft and illegal evictions from worker housing happening at the Royal India Fine Dining & Catering restaurants in Kirkland (9714 Juanita Drive NE) and Lynnwood (7531 196th St SW). The restaurants are owned by Mohammad Rashid Bhatti and operated by his daughter, Aeisha Bhatti. The Bhatti family owns several businesses in the Puget Sound area, many of them started by Mohammad Rashid and handed down to the next generation – Aeisha, Zerha, and Alveena.
Nine workers have approached SeaSol so far, all telling similar stories of unpaid wages, multiple checks bouncing several times in a row, and more. Workers report that they do not receive pay stubs or W2's for working at Royal India, yet the bad Bhatti bosses withhold unexpected and arbitrary amounts of money for "rent" (at company housing) and "taxes". Alarmingly, workers report that others have been fired and aggressively "evicted" from company housing after asking for their unpaid wages. These evictions allegedly consist of workers' belongings being unceremoniously tossed on the street without notice by members of the Bhatti family as retribution for asking for overdue paychecks.

These workers' horrifying experiences prompted us to look into the Bhatti family's history. We quickly realized that these 9 workers' stories were not isolated cases, but part of a pattern of abuse and violation of workers' rights spanning many years. This family has a long history (publicly available via the Washington State Courts website) of not paying their business debts, with several writs of garnishment and judgments against them on file for delinquent taxes, unpaid rent, unpaid bills to restaurant contractors, and unpaid wages and/or minimum wage act violations.

Many people and governmental departments have sued the Bhattis for money they owe, have won in court, and some have had to go back and get the court to help them garnish money when the Bhattis continued not to pay their debts. In April of last year, the Washington State Department of Labor & Industries (WA L&I) won two cases against Aeisha Bhatti (case numbers 22-2-50329-1 and 22-2-05328-3).

Even with a cursory look at Glassdoor, we saw that several workers had corroborated current workers' problems with late or stolen pay, no W2's or pay stubs, and complaints of poor treatment at the hands of management.


Workers at Royal India deserve to be paid properly and promptly for their work, and to be treated with respect. On March 25, members of the Seattle Solidarity Network went to the Kirkland restaurant location and delivered a demand to the Bhatti family to pay two former workers, Juan and Pedro, $430 and $1500 respectively in stolen wages. These demands have not been met.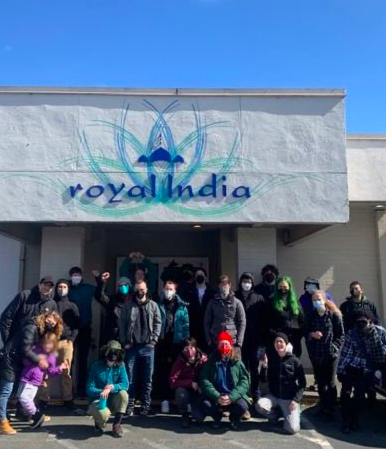 Help us show Aeisha and Mohammad Rashid Bhatti that they cannot continue to steal from their workers and do business in our communities by boycotting both locations of Royal India Fine Dining & Catering until Juan and Pedro are paid what they are owed.

We know that Mohammad Rashid, Aeisha, and the rest of the Bhatti family own and operate several other businesses (including more restaurants) in our area. Stay tuned for calls to boycott these other businesses in the future.

Are you a worker or former worker at Royal India? Get in touch!

An injury to one is an injury to all!